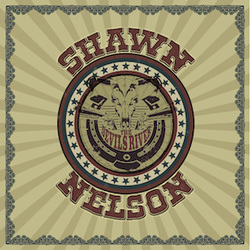 Social media and the interwebs are great ways to discover new music. One of the artists whose music I became aware of from Twitter (and have come to really enjoy) is Shawn Nelson. On February 24th, Nelson released his sixth album,
The Devil's River
. It is a record that is most definitely worth your time and money.
Nelson has previously released five independent albums with various band mates: two under
Shawn Nelson
, one with
Shawn Nelson & The Good Buds
and two with
Shawn Nelson & The Ramblers.
His sixth release,
The Devil's River,
is being called "
a throw-back country album dipped in some Americana sauce."


Nelson wrote all of the songs on the record except "Diamonds Don't Shine In The Dark" and the title track. "Diamonds" was written with Shawn's long time mandolin player Fletcher Murchinson. "The Devils River"
was written with Will Dupuy (
South Austin Jug Band
).
From his website:
Austin's finest musicians helped Shawn breathe life into these songs. Fellow
Good Bud
drummer and producer, Patrick Herzfeld, engineered and mixed the record at his new studio outside of Austin, Signal Hill, and also played drums and piano on the record. Long-time Austin guitar hero, Wayne Sutton of
Sister 7
added his licks and riffs and Will Dupuy of
The South Austin Jug Band
popped in to add vocal harmonies and upright bass on a few numbers. The bluesy-two-stepper "Tighten Up" and the bluegrass fueled "My Old Time Gal" feature fiddler Noah Jeffries of
Milkdrive.
You can listen to the album on his
website
Purchase the album
here