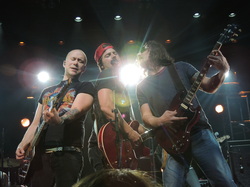 Country music is all over NYC this week. Kip Moore played Webster Hall last night and we were there. The venue holds about 1500 people and the place was sold out. Lotsa young ladies, many wearing their red baseball caps backwards a la the object of their affection. A pretty young crowd with one thing in common, they were ready to have a good time. And
Kip Moore
definitely gave it to them. He took the stage around 9pm and gave a full throttle performance. The minute he walked out on the stage the floor was literally shaking, the crowd giving him a crazy, warm, and energetic welcome. The entire crowd was singing every word and bouncing along to
Crazy,
his first number of the night. When I saw Kip with Eric Church on the BSB tour, I said he had "it" and he still does. He gives 110%, plays to the audience and moves around that stage like a pro. He's having fun up there and it's contagious. He sang a 17 song set, resting for a bit on a stool when he sang his new single
Hey
Pretty Girl.
He capped it off with an encore blend of Tom Petty's
Free Fallin
and
Faith When I Fall
.
The opening act,
A Thousand Horses
are a southern rock group originally from South Carolina, now in Nashville. If you like Blackberry Smoke, definitely give these guys a listen. Their set was loud and energetic, and did a good job of pumping up the crowd for Kip.
For more information and tour dates, click on the artists name to be taken to their web page.