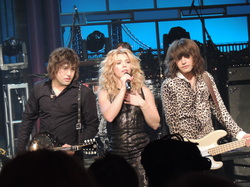 Live on Letterman has been giving internet audiences a concert from their favorite artists for a few years now. Past performers from the country world include Brad Paisley, Jason Aldean and Dierks Bentley. This past Monday, The Band Perry gave a terrific 45minute show in support of the new album Pioneer. I had just seen them do a spot for Vevo in the city last week at the Broome Street Bar where they played Better Dig Two to an audience of about 30 people. They were energetic, very personable and sounded terrific (just the three of them and their banjo player). I was excited to see them in a larger, yet still small venue. The trio's energy did not let up from the moment they walked from the back, down the aisle and to the stage. Kimberly Perry as a front woman is dynamic, enthusiastic, sassy and gorgeous. Neil and Reid also displayed both a high energy and comfort level up on stage. They went right into their first number and current single Done and moved effortlessly from country to bluegrass to rock infused numbers throughout their set. They mix it up by adding a rock feel to songs that incorporate fiddle, mandolin and banjo and you know what, it works. and the best part, they still sound country. After You Lie, which Kimberly encouraged everyone to sing along, they played one song off the album which is sure to be a hit and a crowd pleaser live: the Brad Paisley (he also plays guitar on the track) co-written Forever Mine Nevermind. The chorus makes you want to jump up and down and shake your head around in a good way....and teh final line of the song is brilliant. They played a little Ho Hey by the Lumineers before segueing into All your Life which also included some of Dolly Parton's I Will Always Love You, done country/bluegrass style. More new music they played included I'm A Keeper and Night Gone Waster (with a little bit of Some Nights by fun. added as an intro to the song). They also played If I Die Young, Postcards from Paris and closed with the foot stomping Better Dig Two. The only disappointing thing about the show was the crowd. Although they seemed to enjoy the music, they were not giving back all that The Band Perry gave to them, which I found unfortunate.
TBP must be running on adrenaline this week as they performed for NY radio statin NASH FM on Tuesday and today, Wednesday, they perform a private show for iheartradio in the city, which we were lucky enough to have tickets to.
The iheartradio show was being broadcast live over internet this evening. The crowd, which was largely the same people whom I saw at the other events during the past week, seemed to perk up tonight. They were very receptive to the new material (probably having listened to the new cd) and were raising hands in the air and jumping along especially to the aforementioned Forever Mine Nevermind. Kimberly herself was dancing and moving around like she had energy to spare which was especially impressive in the sky high heels that she was wearing! Neil and Reid again were fantastic, taking their turn to shine on the vocals for Fat Bottomed Girls and Some Nights. The set list from the Live show was very similar with the noted additions of Mother Like Mine and Miss You Being Gone. These siblings have such a great chemistry and
are truly a joy to watch perform.
Do yourself a favor and get the album, then go and see them live, you won't regret it.