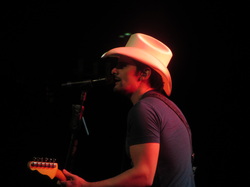 I have a deep appreciation for country music, for which I have Brad Paisley to thank. I have always liked country music but it wasn't my favorite genre, until I first heard his music back in 1999. His singing & guitar playing appealed to me, but I loved his sense of humor and how he incorporated it into his songs. It's definitely a yearly (or more) visit to see him when he brings his tour nearby; and that he did Saturday night May 18th when the Beat This Summer Tour came to Hartford, CT.
The family trio (father, daughter and son) The Henningsens opened the show. They started at 6:45pm sharp to a nearly empty amphitheatre. They played a 5 song set concluding with their Top 20 single "American Beautiful". Lead Clara definitely has the makings of a front woman a la Kimberly Perry. By the time their set ended, the pit was almost full and everyone was dancing along to their music.
Next up was Lee Brice, who won points with me by playing The Cadillac Three as his crew was setting up. He started off with his new single "Parking Lot Party" and continued with five more of his hits including "Woman Like You" and "I Drive Your Truck". He ended with a brand new song that he said would be on his new album due next year. It was an up tempo number which might have been called "Drinking Class"; the crowd really liked it. My only critique was he did not play to the sides of the stage often enough, staying mostly in the center. Yet, having seen him multiple times now on various tours, I can say I like him more every time I see him .
After what seemed like only a few minutes, Chris Young came out to throngs of women screaming "I love you". He moved around a lot on stage, which to me is commendable. So many times one's view of the stage can be blocked, but when the performer makes a point to come over to your side you not only can have a clear view, but there is the potential for one on one interaction. Chris Young definitely knows how to play to a crowd and does it really well. He thanked the crowd for his numerous number ones. He confessed he was shocked that a song which was track #9 on an album (The Man I Wanna Be) would be a single, much less a hit. He had hoped it would not be because it had a high part he was worried about reaching. He need not worry though because he did a great job. He did mess up the lyrics a bit on "I Can Take It From There" but, he took it in stride with humor (which was endearing) and had us all cheer & yell for Conway Twitty when he re-sang the part. His slower numbers had the couples in the crowd hugging, dancing and lip locking. On stage he had 4 towers which lit up for various songs with lights and words including "Beer". He ended with "Save Water Drink Beer" and left the crowd really pumped for Brad.
"I believe country music is best played outside" said Brad Paisley on Saturday night and the entire crowd could not agree more. Everyone was up on their feet the minute they saw him take the stage. He started out with "Southern Comfort Zone", a black mesh screen behind him providing really cool graphics to accompany the song. Then he chatted with the crowd saying "we'll play some songs you wanna hear...and others you don't". He gave away a signed guitar to a child in the audience, multiple picks and even took a fan's cell phone & took photos with it. He ran around that stage & all ends of the catwalk and made sure every part of that audience got his attention at some point during the show. He even went out in the middle of the amphitheatre to play for the "cheap seats". I have seen him on tour quite a bit, but there was something about his energy and attitude that night. It might have been the best show I have seen by him.
He did a medley of "Then" and "She's Everything" and brought Chris Young and Lee Brice out for "Outstanding in Our Field". He had many of the audience tearing up during the video montage shown during "This is Country Music" especially with a photo of George Jones. It was one of the most special moments at a show in recent memory. Brad's show are always full of humor, whether it be him making jokes, what you see on the video screens or the lyrics themselves. Tonight was no different, the most LOL moment was during "Celebrity" when he added some "goating". I hope this is out there on You Tube at some point, because it was hilarious. He also spoke about how comfortable the weather was--although a bit nippy....and whether nippy actually meant, you know...."nippy". He told us to remember this night in August when it is 102 and we are sweating it out at a different show. Other songs he played included "Mona Lisa", "Karate", "Water" and "Mud On The Tires". The night ended with everyone singing along to "Alcohol".
If you get a chance I highly recommend going to see this tour. And as a bonus, you can purchase an autographed copy of his latest album "Wheelhouse" for $20. For more information and dates go to
www.bradpaisley.com