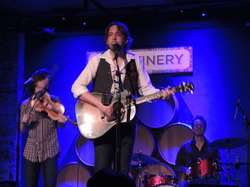 Hayes Carll (r) with Warren Hood (l)
A few years back, I was able to see Hayes Carll open for Dierks Bentley in NYC and remember thinking he was
really
good. I bought his music and followed his doings, but had not had the opportunity to see him live again until this past Friday night when he played City Winery NYC.
His opening act was
Warren Hood & The Goods
. I don't even know how to describe them: bluesy? jazzy? bluegrassy? alt-country? with a hint of 1940s nostalga? Definitely a mix of all of the above. However you label it, it not only works, but works well. The crowd, mostly on the other side of 50, loved him and the music. I had not a clue about the band, so of course I had to do a little researching.
Turns out, Warren Hood is a multi instrumentalist who graduated from the Berklee School of Music, where he won the String Achievement Award, the schools highest honor selected by the faculty. The award is for those who are going to "make a mark on the future of music". And if his live show and music are any indication, he certainly will. His fiddle playing left me speechless. His keyboardist Emily Gamble, who was battling a cold, has a powerhouse voice that reminded me of both Norah Jones and Aretha Franklin. Please check them out, your ears will be glad you did.
Warren Hood & The Goods doubled as Hayes' back up band that night. Warren mentioned he did not know Hayes' music until about a month ago and has grown to like it, especially since he had to learn it all for the tour. This little bit of humor set us up for what would be about 1.5hours of a great show with lots of anecdotes thrown in. Hayes told of how he moved to a place called Crystal Beach on the Texas
Peninsula (where apparently a lot of people move to hide out from the law or IRS) to work on his music. He told stories of a lion there that liked his music, a Redneck Life of Pi, dancing with Norah Jones and how working for the Census Bureau helped him earn money to travel to...Croatia(!?) and an incident with a local handball team. He's a laid back performer, which perfectly suited the venue, who has a keen sense of humor and lyrics that you really need to listen to....."Another Like You" wasn't American Songwriter's Song of the Year in 2011 for nothin'. His voice is raspy yet serene. Everything he sings seems genuinely heartfelt from the upbeat, quirky numbers to the ballads, such as the terrific "Chances Are". During his set, Hayes also played tribute to the late George Jones with "Who's Gonna Fill Their Shoes".
The entire setlist was fantastic, but highlights for me included the encore, a song off of his latest cd KMAG YoYo (& other American Stories) "Stomp and Holler", "Another Like You" in which the incredible Emily Gamble dueted and "Wish I Hadn't Stayed So Long". If you are a fan of the Texas music scene, you probably already know who Hayes Carll is. If you don't (and you are tired of the "country" on the radio today) he is definitely an artist you want to check out. For more information visit
www.hayescarll.com