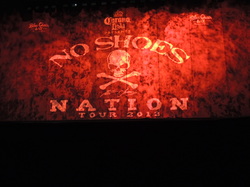 When the lights went down and the video screens turned on, Met Life Stadium in East Rutherford New Jersey went absolutely nuts for Kenny Chesney on Saturday night. After a video introduction, with a few celebrity cameos, the man himself emerged. I had never seen Kenny, so I was anxious to see what all of the hoopla was about. Darn, that man delivered. From the moment he came out and for about the two hours that followed, he was nothing short of the Energizer bunny. He bounced around that stage, tipping his hat and smiling like no artist I have ever seen before. His live act impressed me, but what I noticed even more was how this man interacts with his fans. He made eye contact with everyone I could see (I was in the pit), high fived people of all ages and grabbed hands continuously. He also frequently pointed/shone a light on people in the stands, so that everyone felt like they had a connection with him. "Rock Star," "Beer in Mexico" and "Come Over" were just a few of the songs he played and most everyone seemed to be singing along.
Will I go out and buy all of his albums, probably not. Would I see him again, definitely.
Kacey Musgraves, Eli Young Band and Eric Church were also on the bill. Kacey is a fabulous singer songwriter, however when 5 o'clock rolled around the stadium was not even a quarter full. She played "Blowin' Smoke", "Merry Go Round" and the hit she co-wrote (that everyone was surprised to learn...how do they not know this????) for Miranda Lambert "Mama's Broken Heart." The highlight of her set was her last song "My House" in which she and the band came out to the end of the catwalk, danced and marched in line. It was fun, not cutesy and the crowd loved it. She and her band sounded good, but she lacks stage presence and audience interaction (many people zoned out during her set), but maybe she'll take a few pointers from Kenny.
Maybe I have seen EYB too many times, but their set was the same thing they have been doing for the past two years, including what Mike Eli says when he talks to the audience. The audience loved them though and their energetic performance really brought the mood of the crowd up. Plus, Mike Eli interacted with everyone any chance he got and must have signed at least 40 items from the stage while singing. The songs they played include "Even If It Breaks Your Heart," "Skeletons," "Crazy Girl" and their current single "Drunk Last Night." If you get the chance to see them, do because watching Mr. Young (lead guitar) and Mr. Thompson (drums) alone is worth the price of the ticket.
Eric Church. The stadium still wasn't full when he took the stage, but he gave 100% and got an enthusiastic response from the crowd. He commands the stage and gives an electric performance. He smiles and points to the crowd alot, but his one on one interaction with the crowd is minimal. He mentioned years back playing for a small crowd at Prospectors when he sang a bit of "Livin Part of Life"....but obviously those people were not there that night because very few around me knew the song. As he always does he funneled two beers (although longnecks, not cans) and signed pair of boots for a lucky fan. He ended with Springsteen thrilling the NJ crowd when he added a verse of Born to Run.
www.kennychesney.com
www.ericchurch.com
www.eliyoungband.com
www.kaceymusgraves.com