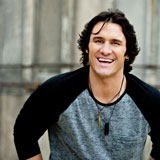 It has been almost two years since there was new music from Joe Nichols. The wait will be over October 8th when his eighth studio album & his first with Red Bow Records, Crickets, will be released.
Honestly, I have never purchased a Joe Nichols album. He has had a string of hits and four #1s, but nothing made me feel the need to buy the music. This all changed after listening to Crickets. I will not only purchase this album, I plan on getting the others and recommending Crickets to friends. Joe has said that with this record he "feels a renewed fire
for the music," which is something that will definitely come across to anyone who listens.
It is a rare album that doesn't have me skipping tracks; Crickets is one of those rarities. 16 songs, yes 16, and all of them are terrific. The album blends nicely the traditional country sound with
elements that make the songs current. His deep, rich voice delivers the songs in a way that makes you want to listen to the record on repeat. The sound of crickets throughout the album sets the mood for listening: in the country, on the porch, at dusk, feet up, tea in hand.
"Just Let Me Fall In Love With You" is a radio ready song that was a great choice to open the record. The songs sets the scene for a night where everything is right from the crickets singing to the river rolling to the spotlight of the moon. Everything is perfect so "don't blink, don't think, don't move, just let me fall in love with you." Many a female might just melt when they hear those lyrics.
"Hard to Be Cool" continues the good time vibe. It's simply a fun song about a guy who is so enamored with a girl, its hard for him "to be cool" around her.
"Baby You're In Love With Me" has an introduction that pulls you into this sweet song about a guy telling the girl to just take a chance & see where the moment leads. He's going to prove that "this is where you wanna be" because "maybe you're in love with me."
"YEAH" is a song with a cool groove that Joe said was one of the first songs he cut for the album. A song about a guy and girl meeting, but one with a bit of role reversal. In it, the girl is "calling
the shots tonight" so he can say "YEAH" to basically whatever she says.
"Billy Graham's Bible" is one of my personal favorites on the album; a very traditional sounding country song on which his voice shines. Everything in this life has a place it is supposed to be, where you come alive, including a man& woman who together "are finally home."
"Better Than Beautiful" This song is simply that, beautiful. It is about a man who finds his missing piece-that woman who has blessed his life "more than he deserves", and how he appreciates her and the life he has that is "so magical, so natural, so wonderful." Definitely a song that will be played at many a wedding.
"Gotta Love It" and I do, especially the nice addition of horns on the track. There is a laid back feel here, "like a front porch swing," which will put you in a warm and fuzzy mood as you think about the one you love and how that person "is the only other one in this world who makes you feel like that." Because don't we all "love it when that someone you love is lovin' you right back?"
"Sunny and 75" is the first single from the record, currently in the top 25 at country radio.
"Y'ant To" & "Hee Haw" Joe had referred to "Y'ant To" as "dirty country" but both of these driving
country numbers play the naughty card along with a catchy beat and a good dose of funny. Crank them up.
"Love Has A Way" is a mid-tempo romantic song about how love has a way of making things happen from unbuttoning buttons, turning the lights down and "showing me you're the one."
"Smile On Mine" Coming in at just under 3minutes, this song is a gem. It is a fun upbeat song
in which he asks her to "tell me what I gotta do to get your smile on mine, get you back in my arms later on tonight" from opening a bottle of wine to taking a ride in his truck.
"Open up A Can" opens appropriately enough with the sound of someone poppin' a top to "one of those days, hell one of those week." It is an everyman song that will have you singing along.
"Old School Country Song" not only feels like an old school song, but is about how we may live in 2013 yet we live the same experiences from years past from cheating to loving, doing people wrong and missing a loved one.
"Footlights" is his version of his favorite Merle Haggard song. With this song, Joe pays tribute to Merle and his own his father, who passed away a decade ago. The song is about performing and how an artist may live their life on and off stage.
"Crickets" is a story about a guy on a date who has maybe a bit too much to drink. He let's those words "I love you" slip out & then you hear what happens next. It is a nice conclusion to a satisfying album.
"Crickets" will be available on Ocotber 8th. You can find out more at
www.joenichols.com