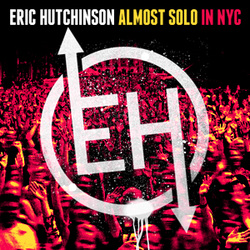 Some of you might wonder why I am writing about Eric Hutchinson, he's not country. Well, we love any type of GOOD music here at TDC and Eric makes good, no great, music, blending pop, soul and rock. I always leave one of his shows with a smile on my face yet wondering "why isn't this guy more well known?"
On Wednesday night Eric performed an intimate acoustic sold out set at Rockwood Music Hall in NYC. The venue is one of the best I have ever been in: small yet not claustrophobic, terrific atmosphere and excellent staff.
Eric came on at 905 to many cheers and hollers. He started out with one of his "favorite foot stomping songs" "Watching You Watch Him" which has a deceptively upbeat tempo with not so sunny lyrics. That being said, the song has one of my favorite lines ever: "I'm a window pane/a phantom limb/when I am watching you watch him." Then for the rest of his hour set, he alternated between playing a baby grand piano and acoustic guitar. And when he plays that guitar he moves to the music which is not only a joy to see, but is infectious as well and soon you find yourself moving too. He opened the door for some requests from the crowd, "Villanova" being one, but when that portion of the show was over, he retuned to the set list and gave us some material that will be on the new record. "A Little More" and "Goodnight Goodbye" are signature Eric tunes with well thought out lyrics and beautiful melodies. His intelligient and witty songs, on which you can hear influences from the Beatles to Stevie Wonder, are some that make you move your feet, clap your hands & sing along.
Other songs played included what he has said is his favorite to perform live "Not There Yet," an old song that's now a new song "Breakdown More" (a fan favorite that is full of heartfelt lyrics), "Oh" and "Rock & Roll." The set ended all too soon, but Eric came out for one encore, his excellent version of "I Want It That Way" (yes the one by the Backstreet Boys).
Eric's latest album,
Almost Solo in NYC,
showcases how charismatic, engaging and down right funny he is live. He is giving away this album, which was recorded in December, for FREE, so do yourself a favor and get it
here
. It'll be the best album you have ever gotten for a tweet, guaranteed!