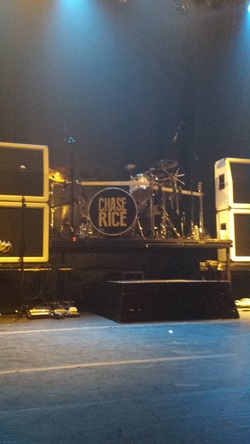 The
Ready Set Roll Tour
rolled into the Gramercy Theatre in NYC this past Saturday. Chase Rice & Sam Hunt, well…..they pretty much nailed it.
For awhile now, my friend had been telling me all good things about Chase and his music. So when tickets went on sale for a local show, I felt obligated to check him out. Honestly, I went into it not knowing what to expect about the show, his vocals and the audience (who for the most part was a bunch of pretty well behaved frat boys & young females). Was the show enjoyable? Let's put it this way, after the drive home I went online and purchased his music.
Chase came out around 915pm and began his set with "Dirt Road Communion." The crowd sang along to every single word. He commented that he would give the audience all he had for this show and they had
to give it back….it happened. That guy worked the stage like a pro walking from left to right, standing on top of speakers& jumping around with energy to spare. He made excellent eye contact with the crowd and played to every single person in the place. Songs played that night (and which the majority of the
crowd knew word for word) included "Ready, Set Roll," "PBR & PBJ," "Drunk On You," "How She Rolls," "Whoa" and a great cover of Lit's "My Own Worst Enemy." About halfway through, the band left the stage and Chase sat solo on a barstool and did two songs acoustic: Jack Daniels and Jesus and a little bit of the "best song ever written The Dance."
Then we had what I consider an A+ moment at a show: Chase introduced his amazingly talented band & his tour manager, who managed to rap the "Fresh Prince of Bel Air" song. Each member (there are 4) was given a few moments to display their incredible skills. Not only are they extremely capable, they genuinely looked like they were having a blast. In my opinion, it always seems to be the bass players who have the most fun when you watch them on stage. It was no different here. Chase's bass player, looking like he was moonlighting from a metal band, was energetic, talented and enjoying every second of it. He shook his head with such force while in the moment, I cannot imagine he didn't have a headache by the end of the night.
Chase returned to the stage for one encore, the song which he has "every right to sing because he co-wrote it," "Cruise," the massive single from Florida Georgia Line. One more final bit of praise for the guy: after the encore, he went from one end of the stage to the other signing hats, posters, phones……and one woman's
chest.
Sam Hunt, whose song "Raised On It" is currently being played as a Highway Find on Sirius XM The Highway opened for Chase. He came on stage at about 8:15pm along with 2 guitar players, one
electric & one acoustic. He said he and the guys were "newbies" at this and only brought what they could only fit into their black van which they named Giselle. Sam told the crowd he was from Georgia, but had the look of a local New York boy about him. His first number "Ex To See" had the crowd wondering what they were getting into…a bit heavy on the rap & the use of a computer providing back up. The perplexed
looks soon left the crowds faces because the rest of his set had a modern country flavor & saw the crowd singing, dancing and having a terrific time. He performed his own songs and those he has written but were recorded by others, including Keith Urban's "Cop Car," Kenny Chesney's "Come Over" and "We Are
Tonight" which is on Billy Currington's new album. He also played a medley of country tunes which the audience ate up including "Dust On The Bottle," "Meet Me In The Middle" & "Chattahoochie." He too genuinely seemed happy to be on that stage performing & was also very energetic and engaging. The set
concluded with him coming off of the stage, down to the rail and singing "Raised On It."
Sign me up for the next show.
Chaes Rice's 'Ready, Set, Roll' EP comes out on Tuesday. Visit
www.chaserice.com
for more info!
Head over to Sam Hunts website and download his music for FREE.
http://www.samhunt.com/