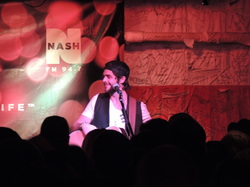 Thomas Rhett released his first full length album on Tuesday entitled
It Goes Like This
. He was in NYC on release day and lucky NASHFM listeners had the opportunity to see him perform and answer questions at
Hill Country BBQ
.
When he first came onto the stage, with a smile on his face and backwards ballcap on his head, he talked about being in NYC for the past three days & how he just came from Glamour magazine where he played some songs for people who "probably don't even know who George Strait is."
To start off, he jokingly decided to "take us back" a whole six months to the song that started it all for him "Something To D With My Hands." He asked the crowd if they wanted to get rowdy and the truly energetic crowd responded with cheers and hollers. Then, with a smile on his face, he took us back again, "old school" to four months ago....he played his favorite song and probably his "most controversial song" so far "Beer With Jesus."
After he performed those songs, Kelly Ford,
NASHfm
midday host and host for this evening, raised her glass and toasted his song "It Goes Like This" being #1 on the charts for three weeks. When asked how that felt, again, Thomas joked that "you break so many records you don't remember them all." Then added how awesome it was and that all of this was really "all about the fans." He spoke of his dad, Thomas Rhett, who is an amazing songwriter but also had his own hits in the mullet wearing days of 1990s, such as "Don't Get Me Started." He said it was very cool to write with his dad who always told him that he had a natural talent for writing while adding that when he was 3-4years old he liked to be the one behind the camera, filming/recording. He went on to talk about playing at the Hollywood Bowl & performing on Leno which was "awesome" and how it was just amazing to have Michael Douglas "an Oscar winner" watching him from the couch with his arms crossed and approving.
Kelly then opened the floor to questions, which Thomas graciously answered. His favorite moment on the Night Train Tour was "playing Madison Square Garden...and I'm not just saying that because I am in NYC." This was met with loud claps as many in attendance that night said they saw him at that MSG show. He was asked who he would like to tour with, country genre and his response was quick "Eric Church, besides Merle Haggard, Eric is the ultimate." He also mentioned playing the Faster Horses Festival was one of his top five moments of the year & a place he would like to play would be Yankee Stadium.
Next two songs were played off of the cd and we all listened including Thomas who said it was "kind of weird" to sit and listen to his own cd. "Middle Class White Boy" & "Call Me Up" were crowd favorites and many seemed to already know the words.
His admiration for Eric Church shown again when someone asked him what song means a lot to him. His response was "These Boots" or "Love Your Love The Most." Prior to playing "Round Here," which he co-wrote, he played the introductory notes to Eric Church's "Homeboy." He also played "1994" which he co-wrote for Jason Aldean & told the crowd he also co-wrote "Parking Lot Party." The boy has been busy!
Some final audience questions included what kind of beer he liked "Miller Lite..or PBR." and his thoughts on who will win EOTY at the CMAs, "Luke Bryan."
The night ended with "It Goes Like This."
Thomas Rhett's album is available online and in stores.
For more information, visit
www.thomasrhett.com