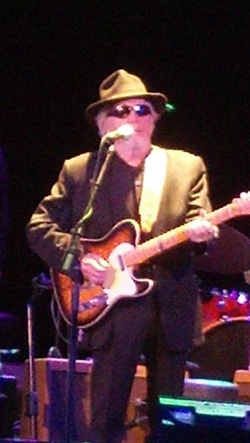 Think of your favorite artist of the moment (or even one you have liked for years). Now imagine them in 40years? Do you think they have what it takes to have longevity in the music business? On Monday night, November 4th, Merle Haggard, at 76years of age, played to a sold out crown at the Tarrytown Music Hall in Tarrytown, NY. From the hoots and hollers coming from the crowd, you could tell there was not one person in the room who was not thrilled to be able to have the opportunity, for the first time or the fortieth, to see this living legend. When he came out in hat and dark shades, the majority of the audience stood. He seemed genuinely touched and started off his hour and a half set with a smile that continued throughout the show. He and his 8 piece band kicked things off with "Big City" and went on for about 20 songs that included "Silver Wings," "Mama Tried," "That's The Way Love Goes," & "I Think I'll Just Stay Here and Drink," during which the hat and glasses came off.
Prior to performing "Ramblin' Fever" he said how this song was close to his heart.

He voice was thinner and softer and he had to repeat the introduction to "If We Make It Through December," but no one minded because honestly, everyone there would probably watch him sing the phone book. It was truly a pleasure to be in the same room & watch this man and his band, which included his wife and his son Ben. He truly still has a love for the music, performing and the fans.

He told the story of how the Country Music Hall of Fame, which he was inducted in 1994, requested an article of his to display. He gave them the Martin guitar with his name on it. Then, when the floods occurred the Martin got washed away. He then said he wrote a song about it & we all needed to get our hankerchiefs out because it was a sad song. "Working in TN" had everyone clapping along, definitely not crying.

The night concluded with a standing ovation & "Okie From Muskogee," which he dedicated to all of the marijuana smokers. As we left the music hall, it was evident from overhearing all of the comments that "The Hag" did not disappoint.