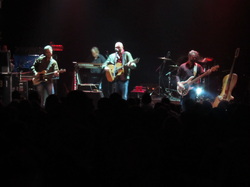 On Thursday December 12th, Corey Smith brought his
Movin' On Up Tour,
presented by Ones To Watch and Texas Pete, to the Gramercy Theater in NYC. The 500 capacity venue was close to, if not, sold out. Seeing an artist in a venue like the Gramercy is something I would take over an arena or stadium show any day. There's nothing to distract you from the reason you are there: to experience honest to goodness good music, which was something everyone definitely experienced Thursday night.
When an artist comes out to
The Jefferson's
theme song, you know it is going to be a good show. Corey started around 9:15pm and for the next hour and a half played his "country-ish," as he called it, music for the enthusiastic crowd. The energy started out high on "Carolina" and didn't let up. Corey is one of those artists that does something which I really appreciate: he talks to the audience. He spoke about the stories behind the songs (all of which he wrote), financing all of his 8 records and touring the country. He also spoke of the gratitude he has for the fans' support over the years and for everyone who came out Thursday night. Corey told of when he played for college kids at a bar in GA (when Brantley Gilbert opened for
him
) having only $50 to pay a fiddle player. Now though, he could play his songs with a full band and launched into "Dahlonega."
Many of the songs that he played, including "Drinkin' Again," "$8 Bottle of Wine", "Twenty-One" and "I Love Everyone" were accompanied by the crowd singing along to
every
word. When he played his current single, and Sirius XM Highway Find, "Ain't Going Out Tonight" people were not only singing, but cheering loudly.
Although he mentioned that he doesn't like to play cover songs often anymore because it "brings back bad memories," he said that he and the band had been playing a song in sound check and wanted to play it live: Matchbox 20's "3AM." Watching the fans reaction, they did a perfect job.
It speaks volumes when an artist introduces their band members. Corey did that and gave each member a chance to shine by having them perform snippets of songs like "Stairway to Heaven," "Sweet Emotion" and "The Way It Is."
Early in the night, before he played "Maybe Next Year," he said that he hoped that everyone "has much to drink, moves their bodies, makes friends with their neighbors and enjoys themselves." By the end of the night, that was mission accomplished. After chants of "one more song," Corey returned to the stage and performed an acoustic "F-The PoPo" and "If That's Country" with the band.
You know it's a good show when it's time for the encore and you don't want it to be over. It was my first time seeing Corey live, but it certainly won't be my last. Don't miss the chance to see him when he comes near you.
For more information visit
www.coreysmithmusic.com