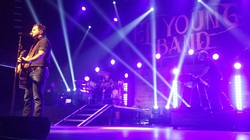 The Eli Young Band brought their
Drunk Last Night Tour
to NYC this past Thursday. The all ages show at Terminal 5 had everyone in attendance, whether they were 15 or 45, singing, dancing and having a good time.
Eric Paslay, whose debut album drops February 4th, opened the show. He is an accomplished songwriter whose songs can be poignant, honest and playful. I have seen Eric a few times, each time acoustic. This time, he was backed by a full band. I was surprised at how hard he rocked out for his approximately 40minute set. He previewed some of the songs that will be on the upcoming album including "Keep On Falling" and "Deep As It Is Wide." He closed out his set with his current Top 10 hit "Friday Night." With hands in the air like it was a Friday night, everyone sang and danced along.
At about 9:30pm, EYB emerged to much applause and many screaming girls' "I love yous." The front row was filled with energetic young ladies who had their hands outstretched all evening to get a touch, a high five or a pick from the band...and the guys obliged.
The Eli Young Band are no strangers to the stage. They have been together for over ten years and are definitely a solid band live. They play and they play well. For this tour, they had a simple black backdrop with their name and some cool lighting effects. They really don't need more than that. The music is the draw here and it speaks for itself. But the guys just don't stand there and strum their guitars either, they most definitely know how to play to a crowd and keep the energy level up. I am a huge fan of Mike Eli's (yes, the Eli portion of EYB as many people in attendance thought Eli Young was a band member) versatile voice. Whether he's singing a ballad like "Guinevere" or rockin' out to their version of Skynyrd's "Gimme Three Steps," he always sounds good. In addition, he walks the entire stage and interacts with everyone he can without missing a beat. Chris Young though, the Young in EYB, has to be the hardest working man on that stage. You can tell he is enjoying himself because he is always with a smile or a funny face. And he jumps around so much that by the end of the night he is drenched. Jon, the bass player, is also always smiling whether he's standing at the mike, jumping up and down or going to visit Chris, "the man with the faces." Watching Chris Thompson play the drums for an hour and a half is worth the price of admission alone. He plays with intensity and emotion and his silly putty face expressions convey it all. It does the heart good to see people on stage that not only sound good, but genuinely seem to enjoy what they are doing.
The Eli Young Band opened with "On My Way" and continued with the crowd pleasers "When it Rains," "Small Town Kid" and "Skeletons." They even brought Eric Paslay back out to sing the song he co-wrote with Will Hoge, that EYB took to #1, "Even If It Breaks Your Heart." They also previewed a few new tunes including "Enough Is Enough" and "Dust." The night ended with a full on sing-a-long to another #1 "Crazy Girl."
The EYB plans to release a new album in February.
For more information visit:
http://www.eliyoungband.com/
http://www.ericpaslay.com/index.html