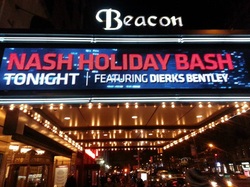 On Thursday night, December 12th, NASH FM 94.7 "America's Country Station" hosted its first ever "NASH Holiday BASH" featuring performances by Dierks Bentley and Parmalee.
The concert event took place at the beautiful Beacon Theater in NYC and celebrated the growing number of NASH FM 94.7 listeners. The Holiday Bash is the latest offering from "America's Country Station" following the successful "Up Close and Country" concert series which featured performances by Brad Paisley, Thomas Rhett, The Band Perry and more.
As people walked into the festively decorated Beacon lobby, NASH was getting everyone in the holiday spirit by handing out Santa hats. Around 8pm, Parmalee, who have the #1 song in the country, kicked off the show with "I'll Bring The Music," which they most certainly did. Their years of performing together were evident as they sounded terrific & performed a solid set. Matt delivers all of the lyrics with believability whether it's a ballad or fun up-tempo number. Josh, Scott and Barry are more than skilled musicians who also provide nice harmonies. The guys are not only fun to watch on stage, but seem to be having fun performing themselves. They continued with songs from their album Feels Like Carolina including "Already Calling You Mine," "Back In The Day," the laid back "Day Drinkin'" and personal favorite, the fabulous "Close Your Eyes." Matt spoke about how his father, who was in a band, taught him to play guitar, strumming a little "Night Moves" before launching into their #1 "Carolina." Many times throughout their set, they expressed how grateful they were to the fans and radio for everything that has happened to them this year. Although many in the audience were seated for their set, Parmalee received standing ovations after both "Carolina" and their top 40 hit "Musta Had a Good Time."
After a brief intermission when a few Rockettes and Santa graced the stage. Dierks Bentley and his talented band of brothers emerged and everyone was immediately on their feet. Dierks, as he always does, brought the party. At one point, that party got a little risque as Dierks asked people (women) to throw things on stage and "stripped' out of his button down to his t-shirt. Bras, tank tops, and even a sock, made their way to the stage.
There aren't many other performers out there who work as hard as Dierks does. He always gives it 100% or more and has such a great time performing whether it be in a theater or arena. He works the entire stage, never stops moving and interacts with everyone he can, including bringing a young lady on stage to "play" guitar while he takes a beer break (or whatever it is that he has in his cup). He played all of his hits from "Am I The Only One," "Free and Easy," "Every Mile A Memory" to "How Am I Doin.'" He sat on a stool and played acoustic performing a funny, new song "Drunk On A Plane." Additionally, he also performed "Back Porch," the bluegrass favorite "Up On The Ridge" and his current heartfelt single "I Hold On." The night closed out with one of his ten number one singles "HOME." Dierks' new album
Riser
is due out early next year.
For more information visit
www.parmalee.com
www.dierks.com
http://www.nashfm947.com/