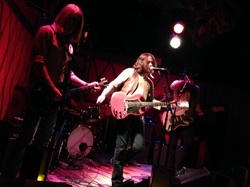 Freezing cold temperatures on a Tuesday might deter some people from going out to see a show, but when the band playing is Whiskey Myers, you go regardless of the weather conditions.
The last time these guys were in NYC was in the fall at Hill Country Live. Their stop in the big apple this time was a precursor for what will surely be a busy week as they ready the release of their third album
Early Mornin' Shakes
on February 4th.
Rockwood Music Hall is a tiny venue that circulates artists through about every hour. It holds about one hundred or so people, a much smaller capacity than what they are used to, as Whiskey Myers regularly plays to sold out crowds at 1000 person capacity venues. The guys hit the stage about 8:30 and played a short forty-five minute set for a crowd of about 65 people. To me, it was a perfect show: intimate with great energy and, of course, excellent music. They started off, appropriately enough, with "Bar, Guitar and A Honky Tonk Crowd" then continued with the southern rock sound playing tracks from the new album including "Early Mornin' Shakes" and "Hard Row to Hoe" on which you could see guitarist Cody Tate immerse himself and get lost in the music.
"If you can't be good then be f-- loud" said lead Cody Cannon. Whiskey Myers is loud
and
undeniably
good. However, they are certainly not a one dimensional band. They're genre mixers whose sound is organic, manifold, and unique. The audience heard their diversity first hand in songs from
Early Mornin' Shakes,
like "Home" and "Dogwood" (on which John's guitar skills were more than evident
)
and the sadly beautiful "Broken Window Serenade" from
Firewater.
Cody's soulful, passionate voice conveys the stories in their songs, whether it is ones with a rockabilly, bluesy lean or a ballad. Gary and Jeff more than expertly handle their duties on bass and drums respectively. The result is a honed, edgy sound that will leave you wanting more.
They closed out the night with "A Different Mold," which highlighted not only Cody Tate's musicianship, but his vocals as well. It seemed to be over just as it was getting started, but it was a special show well worth seeing because undoubtedly next time Whiskey Myers is in NYC they will be at a much larger venue with a much larger crowd.
For more information visit
www.whiskeymyers.com
Early Mornin' Shakes
will be available on February 4th and is available for pre-order.