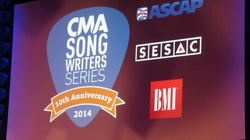 If you have read any of our reviews before, you know that the CMA Songwriters Series at Joe's Pub in NYC is an event we never miss. This year celebrates the 10th anniversary of the shows & February's installment was one of the best yet.
As always, Bob DiPiero was the evening's host. This time he brought along songwriters Jon Nite, Tim Nichols and Kix Brooks. The foursome sat across the stage, guitars in hand and told the stories behind the songs in typical writer's round fashion, taking four turns each.
Bob started off the evening thanking "the best friend a songwriter could have in New York City, Joe's Pub." Then he launched into "Cumberland Road," assisted by Kix on harmonica. Bob also played his "love letter to the south," "Southern Voice," as well as "Gone" and "You Can't Take the Honky Tonk Out of The Girl" which was preceded by the story that inspired the song, one of his ex-wife's sister, Connie.
Kix Brooks is not only an incredible artist, but a funny and engaging storyteller as well. He told the stories behind the hits "Red Dirt Road" as well as "Only In America." In addition, he played a humorous new song that received a warm reception, (that might be titled) "Broke Down."
Jon Nite was up third and made jokes about ha
ving to follow Kix, but he more than held his own. He played the hit he wrote for Dierks Bentley "Tip It On Back," telling what inspired him to write the song, that being his wife's non-cancerous tumor diagnosis. He also performed "Whatever She's Got," David Nail's recent number one and "When We Were Us," the number one duet from Keith Urban and Miranda Lambert.
Last, but certainly not least, was the very funny Tim Nichols, who jokingly said he felt he didn't get the thunderous applause that he was used to when he started "Heads Carolina, Tails California," so he repeated the introduction. The audience then obliged him with the applause "he was used to." He also told the story of how he wrote a song for Garth Brooks, who declined it. One of the "new guys" named Tracy got the song and recorded it. He said jokingly that he didn't like that because "people don't listen to the new guys." However, it all worked out in the end because the new guy changed his name to Trace [Adkins] and the song was "(This Ain't) No Thinkin' Thing." Tim closed out the night with "Live Like You Were Dying."
The intimate evening gave the feeling that we in the audience were privy to something special. It was a terrific night filled with lots of great music and laughter that we cannot wait to repeat again when the Songwriter Series returns.
For more information visit
www.cmaworld.com
www.joespub.com
Photo Credits: Doreena Silva & TDC