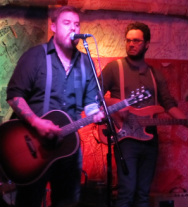 Back in December when it was announced Bart Crow would be coming to play NYC, I might have yelled out a "yes!!" in the aisle of Bed, Bath and Beyond. Bart is one of the few artists whose albums I can listen to in their entirety and love every song.
The show at Hill Country was Bart's first official time playing in NYC. He and the band came on around 11pm, to a crowd of approximately eighty to ninety people, far less than the usual packed venues he is used to. No matter, they played as if the place was full and upon surveying the crowd, it was obvious that everyone was enjoying the music with many people even singing along.
For an hour and a half, he kept the energy high and the real deal music flowing, seamlessly weaving the end of one song into the beginning of the next. He played all of his five #1s on the Texas charts including "Saying Goodbye," "Dandelion" and "Run With the Devil." Additionally, the set included "Falling For You," the foot tappin' "Quarters," and "Cold Heart." He also debuted a new song "City Limits Signs" about leaving, returning to and leaving again, his native Maypearl, Texas. Bart's undeniably identifiable voice delivers music that is believable and truly heartfelt, which can especially be heard on songs like "I Miss You" and "All I Need." On stage, he is warm, personable and funny and there seems to be a genuine camaraderie between him and the four skilled members of the band.
They closed out the night with "Loving You's A Crime" that segued into fan favorite "Wear My Ring," which had people out of their seats dancing and singing along. It marked a perfect way to cap off the night. Hopefully this trip to NYC will be the first of many!
Bart is a fan favorite in Texas and beyond. If you're new to his music, pick any one of his five albums and I guarantee they will soon be added to heavy rotation on your playlist. Then, definitely catch a show when he's near you.
For more information visit
www.bartcrowmusic.com
Follow Bart Crow on
Twitter