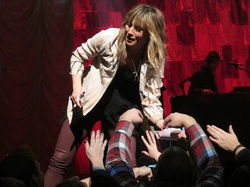 This past Wednesday, Jennifer Nettles brought her
That Girl Tour
to the beautiful Beacon Theatre in NYC. The venue was filled with enthusiastic fans of both Jennifer, and Brandy Clark, who is supporting Jennifer on this tour.
Brandy quietly entered the stage at 8pm and performed for approximately thirty-five minutes. Her set was simple, yet brilliant and her voice was warm and strong. A kind and humorous personality shown through as she told stories about the songs and talked with the crowd. She performed songs from her excellent
12
Stories,
as well as songs she has co-written for others, including "Mama's Broken Heart" and "Better Dig Two." After she was finished, she greeted fans in the lobby and signed for them.
Like, Brandy, Jennifer's performance was pitch perfect and flawless. Jennifer, of course, performed songs from her
That Girl
album as well as a few of Sugarland's hits, which had the crowd on their feet. In addition to her own material, she covered Ambrosia, Barry Manilow and Imagine Dragons. She brought Brandy back to the stage to sing a fantastic duet of "His Hands." Finally, she closed out the show with Bob Seger's "Like A Rock," which she said she enjoyed putting a female perspective on.
Jennifer not only has a tremendous voice, but is an extremely comical and entertaining presence who delivers live on many counts. If you have the chance, definitely check out the
That Girl Tour
.
For more information visit
here
.