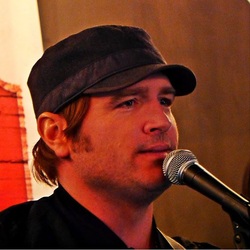 Jerrod Niemann's new album
High Noon
was released this past Tuesday, but on Sunday night, March 23rd, about seventy five fans got the chance to attend the cd release party at Harding's in NYC. The intimate bar/restaurant was decorated with "wanted" posters while the stage was set with a stool, a microphone and a High Noon tarp. There were a few tables and benches with candles and the complimentary drinks were free flowing.
A little after 6pm, Jerrod came out and for the next hour he played songs from the new cd (via the cd/venue's sound sytem) and treated to the crowd to acoustic songs both old and new. He played "Drink To That All Night" and "Donkey." Mind you, that one is not my favorite song, but when Jerrod explained to the crowd how he just wanted a fun, silly song to take people's minds off of the unpleasantness in the world, it made me understand and appreciate it a little better.
As songs from the new record played, Jerrod, who is extremely personable and funny, greeted fans in the crowd with warm hugs and smiles. Then he returned to the stage to perform.
After questioning the crowd for the best hangover cures, Jerrod gave his reply in the form of a new song, "Buzz Back Girl." He also performed, and told the stories behind, "Space" and "Can't Give In Anymore" as well as
fan favorites "The Buckin' Song," and "For Everclear," He closed the night with "Lover, Lover."
At the end of the hour, he took photos with everyone in attendance.
For more information visit
here.
High Noon
is available everywhere.
Photo Credits: Jolene Vladimir and Doreena Silva