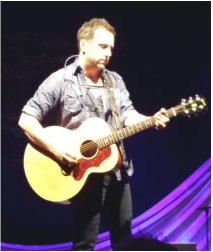 Wednesday night on Long Island at the Patchogue Theater, radio station 96.1 hosted their 'Match Up.' The event paired one male artist with one female artist who took the stage together and alternated telling stories and playing songs for five rounds. All of the artists were not only talented, but extremely personable and funny; enjoying banter with one another as well as joking with the audience.

First up were Chuck Wicks and Lindsay Ell. Chuck had many adoring female fans in the crowd, but he is truly more than a pretty face. He is a talented performer who was more than comfortable on the stage. His voice is very warm and emotive, especially on ballads. He performed his newest single "Us Again" as well as music that will be on the album he is currently working on. He closed with his biggest single, "Stealing Cinderella."

Mark my words: Lindsay Ell will be known as one of the most talented female guitar players of all time. The entire crowd was mesmerized every time she picked up her guitar and played. I have no idea how she made that guitar sing the way it did, but I know from the thunderous applause and cheers from the crowd, she made an impression. She covered Michael Jackson's "The Way You Make Me Feel" and had the crowd singing the chorus. She also played new tunes, including "Not Another Me" a song she wrote for a friend with Muscular Dystrophy whose boyfriend found it difficult to deal with her condition and left. She ended with her debut single "Trippin' On Us." Lindsay's prowess on the guitar definitely impressed (intimidated?) Chuck. Prior to her final song, he asked if she was going to play the electric guitar. When she replied "yes" he followed with a humorous "then I'm going to have to walk off the stage." (he didn't)

Next up were Will Hoge and Kelleigh Bannen. Will started out with one of his older songs, "Better Off Now," and told the story of how the song came to be on Lady A's new record. He then played "Even If It Breaks Your Heart," the song he wrote with Eric Paslay, that Eli Young Band made a #1 hit, smiling the entire time as the crowd sang along. He sang how being married with kids changes your life in the utterly relatable "Bad Old Days". He closed out with a story of how one of his favorite writers from the Tennessean, Gail Kerr, had passed that morning. He dedicated the emotional "When I Get My Wings" to her, standing at the front of the stage, no microphone, singing with the theater so quiet you could hear a pin drop. At the conclusion, he received a standing ovation. i have said it many times before: Will is the real deal.

Kelleigh Bannen spoke of how she and Will grew up in Nashville and when she was seventeen years old, her father would get her into the clubs just so she could watch Will perform. She, like all of the artists, thanked the crowd for coming out and said how happy she was to be playing tonight. She played a lovely, traditional country song called "Church Clothes" that she said hoped country radio had room for. She also played "Broken Record Hearted" and her first single "Sorry On The Rocks." She forgot the lyrics to that one, but no one minded because she took it in stride and with humor. She concluded with her current single, "Famous" on which she played mandolin. Honestly, I was not a fan of the radio version of that song, but hearing it acoustic...I'm sold.

Finally, Dustin Lynch and Danielle Bradbury took the stage. Dustin opened with "She Cranks My Tractor" then played a new song inspired by his parents and grandparents called "Daddy's Boots." He invited girls up to the stage to dance when he sang "Wild In Your Smile." Additionally, he played his new song which comes out next week, "Where It's At." He closed with "Cowboys and Angels," a song that he wrote for his grandparents 55th wedding anniversary four years ago.

The audience that night was full of young girls who absolutely loved Danielle Bradbury. Before launching into "Daughter of a Working Man," she told the crowd how she was a daddy's girl. Additionally, she covered Pink's "Try" and closed with "Heart of Dixie."

Afterwards, many of the artists stayed to meet, sign and take photos. It was a terrific night, that hopefully 96.1 will repeat in the future.