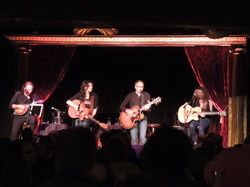 The first ever Nashville To New York was an evening of hit songs and the stories behind them. The show, patterned after the famous "In The Round" writer nights at the Bluebird Café in Nashville, was hosted by Hall of Fame songwriter Gary Burr, and his wife, hit songwriter Georgia Middleman, both members of the critically acclaimed group Blue Sky Riders.
For this initial outing, Gary and Georgia brought Maia Sharp and Marcus Hummon along with them. As with the typical writers' rounds, each artist took a turn telling a story behind a song and then playing said song. Early on Gary had said that when any audience members talk during a show at the Bluebird, they get shushed. No one was talking during this show! Those in the crowd were quiet and respectful, eager to hear the stories and the songs. In fact, the artists commented on multiple occasions how attentive and polite the crowd was. The writers on stage bantered not only with one another throughout the evening, but with the audience as well.
They joked that they all took the "sorrow train" and the "story train" that night, playing songs that told stories that were melancholy in tone. Gary was up first and told the story behind a song Leann Rimes recorded, "Nothin' But Love Makes Sense." He wrote it, he said jokingly, simply because he wanted to hear the words "jumbo shrimp" in a song. Additionally he played a new song on his record and a song he initially wrote for Garth Brooks, but got recorded by Ty Herndon and went to #1, "The Only Way I Know."
Maia played a beautiful song titled "Me After You" that was on one of her records that sold "tens of tens..." She also played "A Home" recorded by the Dixie Chicks and "Long Way Home" recorded by Art Garfunkel.
Marcus started off with a story about Sara Evans. They were having a writing session and she had just gotten off the phone with people from the label. She was crying. Why? They had told her she needed to lose weight after having her baby. That inspired her song "Born To Fly." The he switched from guitar to piano to play his song "The Favorite Son." He talked a bit about being in the business for 27 years and the state of co-writing with the young songwriters in Nashville. He commented that songwriters used to be "politicians, poets, theologians" and how things are differently now.
Georgia Middleman began with a song sung by Reba and inspired by the diner scene in
When Harry Met Sally,
"I'll Have What She's Having." She also played a song with a twist at the end, "Table 32," as well as a few more. She added lovely harmonies when the other writers played their songs.
If you enjoy hearing the stories behind the songs, sung by the actual people who wrote them, then make sure to keep these shows on your radar. The night was definitely one to remember. We can't wait for next installment.
About the artists, from the Cutting Room:
GARY BURR Nashville Songwriter Hall of Fame member. ASCAP, Billboard and NSAI Country Songwriter of the Year. Fifteen #1 hits. Songs recorded by Faith Hill, Garth Brooks, Carole King, Ringo Starr, Reba McEntire, LeAnn Rimes, Christina Aguilara and Ricky Martin, Kelly Clarkson and more. Member of the group Blue Sky Riders with Georgia Middleman and Kenny Loggins.
GEORGIA MIDDLEMAN Songs recorded by Keith Urban, Kenny Chesney, Faith Hill, Reba McEntire, Joe Nichols, Martina McBride, Radney Foster, Maia Sharp, Mark Chestnutt, Sarah Buxton, Terri Clark and many others. Recently had her song "When The Right One Comes Along" featured on the ABC hit TV show "Nashville." Currently one third of the new trio, Blue Sky Riders with Kenny Loggins and Gary Burr.
MARCUS HUMMON Grammy winning songwriter, recording artist, composer, playwright and author. His best known hits are: 'Bless The Broken Road' (Rascal Flatts), 'Cowboy Take Me Away', and 'Ready To Run' (The Dixie Chicks), 'Born To Fly' (Sara Evans), 'One Of These Days' (Tim McGraw), and 'Only Love' (Wynonna). Marcus has written 5 musicals, 2 operas and his songs have been nominated for Grammys, ACMs and CMAs.
MAIA SHARP Songs recorded by The Dixie Chicks, Bonnie Raitt, Trisha Yearwood, Keb' Mo', Cher, Edwin McCain, David Wilcox, Art Garfunkel, Paul Carrack, Lisa Loeb and many more. As a producer, Maia has worked with Edwin McCain, Art Garfunkel and Crystal Bowersox, among others. She has five solo releases that have all been critically acclaimed and enthusiastically embraced by press and radio.
For more information visit The Cutting Room official
website