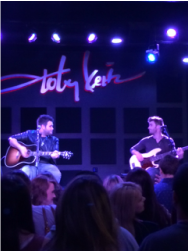 With all the hype surrounding the Swon Brothers following their appearance on The Voice, I decided to check out their free show (Swoncert) at Toby Keith's Bar & Grill on the eve of the release of their first single "Later On."
The Swon Brothers (Colton & Zach) put on an acoustic performance that highlighted the brothers vocal harmonies and Zack's amazing guitar skills. They did an hour long set that included all the songs they performed on The Voice as well as a very cool three song Eagles tribute.
In addition, they performed two new songs from their upcoming cd. One was entitled "Pray For You." Colton explained the story behind the song saying, "Have you watched the news lately? With all the bad in the world, we decided to write song with a message of hope." In it, they sing "Tonight I'm not gonna love you/Tonight I'm gonna pray for you."
They closed the show with their current single "Later On," which had all the ladies in the crowd screaming. Throughout the evening the crowd was singing word for word with these newcomers. This long time concert veteran was impressed at the amount of crowd participation for an up incoming artist.
All in all these talented young men performed a spot on set and seemed to genuinely enjoy their fans and performing for them.
For more information visit their official
website
Photo credit to, and guest post written by, David Watts