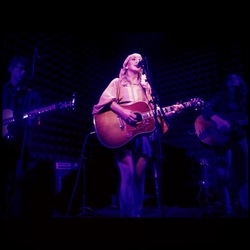 Ashley Monroe and Striking Matches made it a double on Monday night (April 14th) playing two shows at Joe's Pub in NYC. Shows at Joe's Pub are intimate; it's like having friends, albeit friends on a stage, over in your living room....and what nice friends there were on Monday evening.
Striking Matches, the duo comprised of Justin Davis and Sarah Zimmermann, opened the show and played a seven song set of all original material. The twosome are not only incredibly talented songwriters, but their skills on the guitar, and mandolin for Sarah, will leave you blown away. Their set list included "Trouble Is As Trouble Does," from their terrific self titled EP, as well as "Hangin' On A Lie", and "When It Rains." Additionally, they played the first song they had featured on the television show Nashville, "When the Right One Comes Along" (they have had six songs featured on the show in total, so far).
Sarah had some (humorous) issues with her guitar and mandolin being plugged in, but she took it in stride with jokes and smiles. In addition, during the first show, she played her guitar with such fierceness on "Make A Liar Out Of Me" that she broke one of her strings! "Let's see how this works with five strings," Justin said. In case you were wondering, it worked out just fine.
They spoke about how excited they were, not only to play NYC, but also because they recently signed their first record deal with I.R.S. Nashville. Their excitement transferred to their performance as they have an energy, intensity and enthusiasm which are met by few others. Keep an eye out for Sarah's foot stomping (she said she had gum on her show as a joke) and facial expressions which demonstrate how deeply she is immersed in the music while playing.
After a five minute break, Ashley Monroe graced the stage with her friends Striking Matches as her supporting band. On stage, Ashley is charming and genuine. She easily won the audience over with her grace, humor and soft spoken demeanor, not to mention her traditional vocals and original music. She commented more than once how happy she was to play two shows in NYC on their short four city tour. She opened with "You Got Me" then "Two Weeks Late." She performed the title track of her most recent album, "Like A Rose," for which she told the story of how she wrote it with Guy Clark. In addition, she played a new song she wrote with Vince Gill called "Has Anybody Ever Told You" that will be on her next album, which she is currently working on. She relayed the story behind the song "From Time to Time" saying it was inspired by a "pity party" she gave herself prior to her wedding [she was married last October] when she realized her father would not be walking her down the aisle. She needed a sign from her father and when she woke, she had the melody of the song in her head.
Before singing "Heart Like Mine," Ashley told the funny story of how the song was written one evening on the front porch of a cabin in Pigeon Forge, TN where Ashley took Miranda [Lambert] to ride roller coasters at Dollywood. The other song she had in the "hit portion" of the show was the song Jason Aldean recorded, "The Truth." She said she wrote that song about a boy back home in Knoxville when she was 19 years old. Additionally, she played a song that Justin had started and the three of them completed, called "Dixie," as well as the Pistol Annies' songs (with her Pistol Andy--Justin) "Bad Example" and "Unhappily Married." The first show ended with "Weed Instead of Roses" while the second show closed with "Satisfied."
Very rarely is an audience so attentive and respectful as they were when Ashley (and Striking Matches) sang. This even caused Ashley to comment in between songs that she "loves it when people listen" like the audience was doing tonight. Also evident, was a true camaraderie between Justin, Sarah and Ashley. You could fell that they are friends, like family even; from the way they interacted with one another and the support they gave one another on stage.
Everyone did leave Joe's "satisfied," full of authentic country music performed by genuine artists.
You can read our interview with Striking Matches
here.
For more information on
Ashley Monroe
and
Striking Matches,
you can visit their official websites.