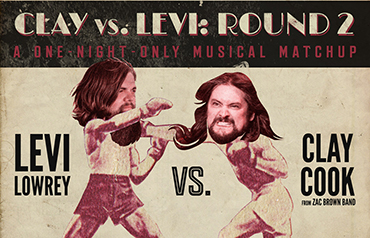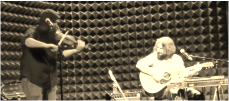 Perhaps one of the best places in NYC to see live music in an intimate setting, Joe's Pub hosted Clay vs Levi: Round 2 this past Monday evening. Clay Cook is a multi-instrumentalist and one of the members of the Zac Brown Band who recently released his new album
North Star
. Levi Lowrey is a BMI Country Award winner for "Colder Weather" and an artist on the Southern Ground label who released his latest, self titled album this past February.
The night started out with the two men deciding who would play first....by playing "rock, paper, scissors!" Levi "won" which meant he would go first, but that Clay would get the "last word" of the night. This fun approach set the tone for the evening as both men took turns playing their songs and interacting with one another and the audience. There were jokes about trains, the many and varied uses for cds (according to Levi, they make excellent ice scrapers), "mice elf," and Christmas (that somehow carried through the evening).
But joking aside, the music was the true focal point of the evening. Levi began with "Barely Getting By" and played nine songs including "December Thirty-One," "The Problem with Freedom" and "Yesterday's Fool." Clay began with "Mountain Time," which was met with such applause that he commented that he had not had heard such heartfelt "hoorays" in a long time. He continued with "Terrible Timing," "This Kind of War," and a bit of "Amazing Grace" before launching into "Tell Him What You Want." He also played a verse of "The Muppet Theme," which he said was his favorite show as a child, before "Restless Man."
One poignant moment in the evening came when Levi sang a song for his children at home. He addressed the camera to speak to them prior to beginning "Trying Not To Die" and after; telling them it was time to go to bed.
Whether the songs were solemn or more up-tempo, the audience was attentive and respectful (sans one or two people who liked to yell out in between songs). In addition to the stellar storytelling/songwriting, these two gentlemen are some of the most amazingly talented musicians you will see. Levi played acoustic guitar when he performed his songs and captivated on the fiddle while supporting Clay. Throughout the hour and a half long show, Clay showcased his musicianship on acoustic and electric guitar, pedal steel and mandolin.
The evening ended with Levi performing a song he co-wrote that was a #1 for the Zac Brown Band, "Colder Weather" and Clay performing the song he co-wrote that was a smash for John Mayer "No Such Thing." Both men were more than gracious to meet, sign and take photos with fans in the lobby after the performance.
This show was definitely one of the highlights of 2014 so far. Bring on Round 3!
For more information on Levy Lowrey visit
here.
For more information on Clay Cook visit
here.