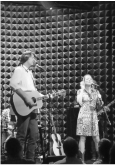 Having recently released their fabulous album,
Our Year,
Bruce Robison and Kelly Willis made a stop at Joe's Pub in NYC on Sunday night as part of the
Bruce and Kelly Show Tour.
For an hour and a half, they played songs old and new, and traded vocals and banter with one another in front of a more than attentive audience.
After remarking that they spent the day in NYC, including a stop at Dylan's Candy Bar for their kids, who are along for the ride on this tour, they dove into the music. The set consisted of twenty-two songs plus two encores and included "Motor City Man," "Cradle of Love," "What I Deserve," and Kelly's version of "Harper Valley PTA," which she said she learned in response to Bruce going off the set list with "Me and Bobby McGee." In addition, they included songs Bruce wrote that were hits for others including "Wrapped," (George Strait) and "Travelin' Soldier" (The Dixie Chicks).
Simply put, it was an evening of great music performed by two immensely talented people (and their band) who have a genuine love for what they do. Shows at Joe's feel like you are in your living room experiencing something special and unique; but Sunday night was more.
The partners's (in music and marriage) love for one another was evident whether it was the adoring way Kelly looked at Bruce or the compliments that were free flowing from Bruce to Kelly. Their intimacy with one another, through the songs & in their interactions, made the room feel even smaller, and the show even more special.
The applause and enthusiasm of those in attendance far outweighed the number of people occupying seats. However, one particular gentleman summed up the evening perfectly: it was most certainly a "beautiful" one.
For more information on Kelly and Bruce, visit
here