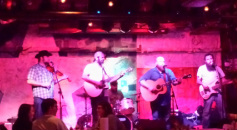 It depresses the heck out of me when a good band is in town and few people show up.
The Damn Quails started out the week by doing a damn fine job opening for Reckless Kelly in Brooklyn on Sunday night. The crowd was thin, but quite a few in attendance knew the music, even causing Bryon to comment that there was actually "somebody here that knows our songs." The set was brief, but the band (from Norman, Oklahoma) would remain in the city to play Hill Country NYC and Brooklyn the following two nights.
Hill Country NYC was full with patrons eating their barbecue when The Damn Quails began their hour and a half long set at 930pm. Filled with songs such as "Fool's Gold," "Quicksand" and "Better Place to Stop" from their debut album
Down The Hatch,
they truly seemed to have the crowd enjoying every minute. With Bryon and Gabe switching off lead vocals, they showcased how they successfully meld folk, rock, country and blues for a unique and enjoyable sound. Their solid songwriting, harmonies, and musicianship combine to make good music, plain and simple.
Sadly though, as people finished their food, they didn't stay to finish hearing the music. Undoubtedly, this will be one of those nights years from now when they are playing bigger venues that one can look back and say "I saw The Damn Quails when they played NYC for under ten people and look at them now." I look forward to it.
Here's hoping they make a return trip to the Northeast at some point.
For more information visit their
website