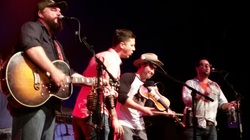 As any live music junkie knows, a good show can leave you on a high that lasts for quite some time; this is definitely the case with the the
American Aquarium
and
Turnpike Troubadours
show in NYC this past Thursday night.
Initially set to occur at Irving Plaza, the venue was changed to the smaller Gramercy Theatre, which raised concerns about potential turnout. Thankfully, the venue was near capacity with a raucous crowd eager for a good time.
American Aquarium, from Raleigh, NC have been together for a little under ten years. The band members, "brothers, friends and family" as frontman BJ Barham referred to them, are a solid group of musicians. From Whit Wright's pedal steel to Kevin McClain's keeping the beat on the drums to the three guitarists Ryan, Bill and new member Colin (keep an eye on him, he's incredibly enjoyable to watch) who seem to be vying for who has the most fun on stage. The music, sonically veering more towards rock and roll than country, is emotionally honest and filled with substance; stories of regret, failure, addiction and of course, relationships. BJ's facial expressions and weathered voice convey the emotions of the lyrics in an always effective, yet sometimes sad, pensive manner that make you really
feel
what he sings (even more so live than on record). Songs included "The Man I'm Supposed To Be," "I Hope He Breaks Your Heart," "Jacksonville," and "Burn.Flicker.Die."
There's most definitely a reason Turnpike Troubadours won Live Act of the Year at this year's Lone Star Music Awards. The minute they walked onto that stage and started playing the energy level of the venue went through the roof. The five members, especially front man Evan Felkner, quite honestly exuded a sense of pure joy throughout their hour and a half set that was filled with their story songs such as "Blue Star," "Down on Washington," "Wrecked" (with a little help from a lyric sheet) and "Gin Smoke and Lies." All are fierce musicians who through the upright bass, fiddle, banjo, guitar and harmonica brought to life their infectious sound that had the somewhat rowdy crowd enjoying a rollicking good time.
Evan performed an acoustic solo of Garth Brooks's "I'm Much Too Young (To Feel This Damn Old").
Then R.C. Edwards
took the lead on "This Land is Your Land" on which the American Aquarium boys joined. Honestly, this is the sort of thing I absolutely love and may have been the highlight of the night. There is something about having bands come together on stage and being able to sense the friendship and camaraderie among them that makes you feel that you are a part of something special too, even for a little bit.
They closed the place down with a venue sing along of "Long Hot Summer Day." which had them thanking the crowd for one of the best dates on the tour.
American Aquarium will return to NYC in September 9th. Turnpike Troubadours have no other area dates on their tour page, but after this show, I have a feeling they will be back.
Note: As of 7/20 the website is having difficulties uploading photos. We are working on resolving the issue. To see some pics of the show, head over to my Instagram.