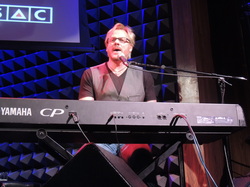 Phil Vassar
Concerts are great, but there is nothing like a good songwriter's show! Hearing the stories behind the songs we hear on the radio every day is an evening not to be missed. And the show on Tuesday night did not disappoint.
The
CMA Songwriter's
Show was back in NYC Tuesday May 7th & Wednesday May 8th celebrating 9 years of bringing country music stories, songs, and songwriters to NYC. This time host Bob DiPiero brought Phil Vassar, Shane McAnally and Brandy Clark with him for four shows over two nights. Bob performed five of his famous numbers including "The Church on Cumberland Road", "Gone", "Southern Voice", "Blue Clear Sky" and "Daddy's Money".
Shane McAnally is one songwriter having a terrific year. He is one of the writers behind of a string of recent number one hits. He performed "Come Over", "Somewhere With You", "Downtown", and "Kiss Tomorrow Goodbye". He said he gets a lot of his ideas from his mom because she is "a lunatic". He relayed the story of how there were so many cars coming and going at a neighbor's house and when his mom was asked what's going on she replied "they're either selling mary kay or mary jane"....which of course are now lyrics in Kacey Musgraves' hit "Merry Go Round". He also expressed a genuine gratitude to be able to come to NYC for this writer's round, speaking of his deep admiration for Bob DiPiero. He called Bob a "hero" but jokingly asked him to "retire please"!
This was also Brandy Clark's first time performing at a CMA Songwriter's Show and from her warm reception from the crowd, it will hopefully not be her last. She co-wrote and performed Miranda Lambert's current #1 "Mama's Broken Heart". She spoke of her fascination of all things HLN and women who commit murder. Her interest in those headlines sure leads to some amazing lyrics. She did two songs related to those topics, which hopefully someone will cut, because they were terrific. One was about a woman going to prison and how she did not look good in stripes & the other had the memorable line of "the only way to get by is to get high". Her final song was The Band Perry's recent #1 "Better Dig Two". She too spoke about looking up to Bob and remembering seeing his name on the bottom of the videos at CMT and wanting to become a songwriter.
And last but not least, there was Phil Vassar, who has done prior CMA shows. Saying he felt like Schroder of the Peanuts "up here on the keyboards", he packed energy, humor and killer piano playing & vocals into every turn he had in the round. He spoke of living in Antioch, TN, the "hood" if TN had one, and meeting and having a songwriting partnership with Craig Wiseman. He sang "Joe and Rosalita" which he said was the true story about two of his friends he set up. And then there was "Bye Bye" which he wrote about his now ex-wife, who he is good friends with today. He also sang "Another Day in Paradise" with the entire audience singing along.
The next CMA shows at Joe's Pub are July 23 and 24th, with guests currently unannounced. No matter, we'll be there because it is sure to be a terrific show. For more info:
www.joespub.com