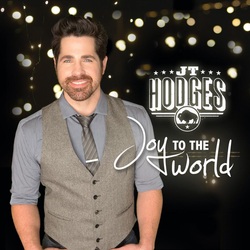 www.jthodges.com
Country Music's JT Hodges will star in a new made-for-television holiday movie. The artist who has already caught the eye of Music City Nashville,
award-winning producers, the ACM's and People Magazine will debut his acting skills in the Hallmark Channel Original Holiday movie, "Finding Christmas" which premieres on the network on Sunday, December 15, 2013 at 8pm EST. In conjunction with the network television movie, JT Hodges will also release a modern country take on the classic holiday song "Joy to the World" on Tuesday, November 5, 2013 via iTunes. The movie is part of Hallmark Channel's popular "Countdown to Christmas" programming campaign.
From JT Hodges website: Joining JT Hodges in the cast are Tricia Helfer ("Battlestar Galactica" "The
Firm"), Mark Lutz ("Ghost Whisperer") and Cristina Rosato ("Perfect Plan"). "Finding Christmas" is about single mother Ryan (Helfer) who has just given up on dating after her divorce, happily accepting her young son as the most important man in her life. That all changes when Ryan's brother Owen (Hodges), also feeling unlucky in love after a bad breakup, swaps his home in their small North Carolina town with New York City adman Sean (played by Lutz). Ryan feels an instant spark with her new neighbor, but Sean, who signed up for the temporary home swap after a proposal gone wrong, is out of his comfort zone in his new rural surroundings. He quickly discovers the magic involved with taking chances and starts opening up to romantic possibilities around free-spirited Ryan.
"I've always loved performance art period. It was choir and musicals in High School and then on to theatre and television studies in College. I've always been passionate about cinema, as a viewer and an actor. Names like Paul Newman, Robin Williams, Oliver Stone and Steven Spielberg will always have my praise,"
said JT Hodges. "Being able to work on this movie with Hallmark Channel was an amazing experience and opportunity for me. I'm very thankful and excited that all of my fans now get to see another side of my artistry."
While JT Hodges' first love remains his music, acting has always been a part of creative pursuits. Following in the footsteps of musicians and actors such as Tim McGraw and Kris Kristofferson, JT's debut in the network original movie is an opportunity that gave him the chance to show his diverse creative abilities to audiences nationwide.
JT will release new music in February of 2014. For more information visit
http://jthodges.com/home