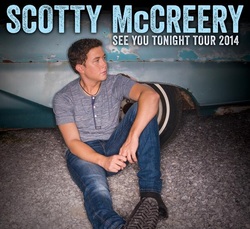 Platinum-selling country singer-songwriter Scotty McCreery will launch his new
See You Tonight
Tour in January. The tour, named for his current album, will feature songs from
See You Tonight
, which hit No. 1 on the
Billboard
Country Albums chart and received rave reviews from critics.
From Scotty's website: McCreery wrote five songs on his new album, which was released in October, and he's eager to perform them live. "It'scool to be able to sing the songs for
people that I wrote because they came from my heart," he says. "This tour will capture more of who I am than anything I have ever done."
The tour will include stops around the United States as well as potential stops abroad since he has an international following. He's very excited about performing at the historic Ryman Auditorium on Feb. 18.
"It has been a dream of mine to play the Ryman," he says. "It is the mother
church of country music and it is a true honor."
The album's debut single and title track, "See You Tonight," is approaching the country charts' Top 20. He is nominated for Breakthrough Artist at the American Country Awards, which will air live on Fox on Dec. 10.
Cities are still being added to the tour, so visit
www.ScottyMcCreery.com
for the latest
updates. Below are tour stops that can be currently announced:
Jan. 24 – Ashland, KY – Paramount Arts Center
Jan. 25 – Hampton, VA – Hampton Coliseum (WGH WinterFest)
Feb. 15 – Fort Worth, TX – Billy Bob's
Feb. 18 – Nashville, TN – Ryman Auditorium
March 1 – Orlando, FL – Sea World
March 12 – Greensboro, NC – Greensboro Coliseum
May 16-17 – Harris, MI – Island Resort Casino