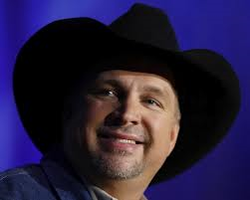 Country mega-star Garth Brooks sat down with Robin Roberts during "Good Morning America" on Monday, and he took the opportunity to announce his upcoming world tour.
Previously, Brooks had been vague about his touring prospects, but he opted to finally make the announcement many of his fans were thrilled to hear.
"You know what, since it's you and since we've had a history forever, let's announce it. We're going on a world tour in 2014," Brooks told Roberts. "I can't believe I just did that but you are a doll."
It sure feels good to get to throw your hat back in the ring," Brooks said. "All my babies are fine with it. Ms. Yearwood is fine with it. So now I get to do what I love to do, which is play music. I get to be with the person I want to be with, which is Ms. Yearwood."
He was on the show to promote his new album Blame It All On My Roots: Five Decades of Influences, a six disc set along with a DVD of his Vegas show.