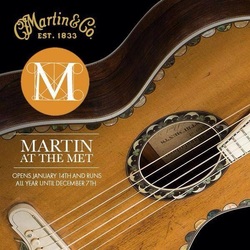 Thirty-five rare guitars that represent the early history of the instrument in America are on view at The Metropolitan Museum of Art. Drawn from the Museum's own holdings as well as private collections and the Martin Guitar Museum in Nazareth, Pennsylvania,
Early American Guitars: The Instruments of C. F. Martin
will trace the birth of the American guitar by shedding light on the contributions of Christian Frederick Martin, a German immigrant who invented a uniquely American form of the guitar. The exhibition will highlight the largest collection of instruments by this renowned maker ever to be displayed publicly. It will include the earliest known guitar signed by Martin, the earliest established guitar with his X-braced construction, and several extraordinary decorated examples of his work. The exhibit runs until December 7, 2014. For more information visit
here.