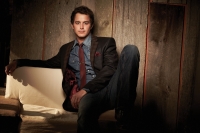 On Friday, Mercury Nashville recording artist Easton Corbin shipped his brand-new song "Clockwork" to country radio. During the eight o'clock hour the nationally syndicated morning program, The Bobby Bones Show, gave "Clockwork" its world premiere. Easton has etched a name for himself as a traditionalist staying true to the sound of those who influenced him including George Jones and Merle Haggard. "Clockwork" was written by Easton's longtime producer, Carson Chamberlin as well as Ashley Gorley and Wade Kirby.
"Clockwork" is the first song off Corbin's third album due later this year. "I'm very, VERY excited to have new music out now for my fans. I'm excited especially to release a song like "Clockwork," says Easton. He adds "A song like 'Clockwork' is a good reflection of my country roots and it shows that I'm growing as an artist. I think when my fans hear this song they will get a good taste of how my upcoming album is going to be."
Easton can currently be found on the We Are Pioneers World Tour with The Band Perry. Over the next three months Easton will cover North America with them, performing in 30 cities.
You can watch Day 5 of the teaser reveal below. Have you heard the song yet? What do you think?