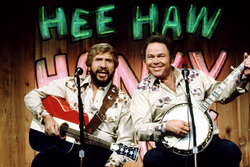 It looks like a musical based on Hee Haw, the television series that ran on CBS from 1969-71, and featured country music and humor, is coming to Broadway in the near future.

The musical will be directed by Michael Barakiva and have a book by Robert Horn. The music and lyrics will be written by Nashville powerhouse songwriters Shane McAnally and Brandy Clark. Hee Haw will have one story line and contain songs both humorous and heartfelt.

The show was in syndication for 20 years. It was co-hosted by country artists Roy Clark and Buck Owens and was set in fictional Kornfield Kounty.