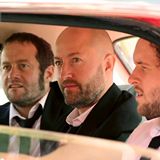 Looking for some new music this weekend? Why not give a listen to Adrian Duffy & The Mayo Brothers. The brothers in the band are London based Adrian Duffy (acoustic guitar, vocals, mandolin), Chris Duffy (drums & percussion) & Melvin Duffy (pedal steel, slide & electric guitars, bass & vocals), with the family hailing from Co Mayo, Ireland.
The boys were brought up on a "diet of Merle Haggard, Buddy Holly, Neil Young, Johnny Cash and The Band." Through their uncles, The Duffy Brothers, they got to spend some of their childhood backstage with the likes of Tammy Wynette, Charlie Pride and Emmylou Harris.They site more recent influences as Steve Earle, Wilco, Shawn Colvin and Alison Krauss. This blend of influences gives them a unique sound.
Their new single "Someone Like You" is to be released worldwide on March 30, 2014. The song is taken from their recent EP of the same name. "Someone Like You" finished a run of seven straight weeks on the RTE Radio 1 playlist and had 100's of plays across national UK, Irish, Danish and Swedish radio.
"Someone Like You" is mixed and produced by Matt Kemp (Ry Cooder, The Chieftains), mastered by Denis Blackham (Dolly Parton, Elvis Costello) and released through their own indie label SR Records.
The group was nominated 2014 IASCA Irish Radio Artists, following on from their nomination back in 2012. They are now starting to pick up some great country music reviews and radio plays in the USA & Canada.
For more information visit
here.
You can also find them on
Facebook