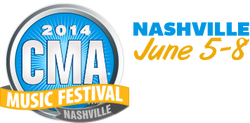 The CMA will reveal performers for the four nights of LP Field shows at 2014's CMA Music Festival via social media starting Monday March 3rd.
Clues will be posted daily through March 18, with a full lineup announcement on March 19.
"We have a very strong, dedicated, and loyal social media audience," says CEO Sarah Trahern. "They are the ones who are constantly engaged with the festival, so of course we want to let them be the first to find out who will be performing this year."
Clues can be tracked using hashtag #CMAFestGuess.
Follow the CMA on Facebook
here
and
Twitter