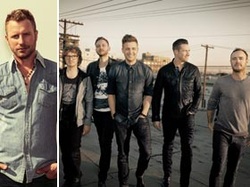 Dierks Bentley's new album
Riser
is due out on February 25th and boy has he been all over the place this week with announcements promoting the record.
Yesterday it was announced rock band
OneRepublic
will team up with Dierks for
CMT Crossroads
. The one-hour special, will premiere March on CMT.
Riser is his first album since the death of his father and the birth of his son. He is climbing the country chart with "I Hold On."
In addition to the Crossroads special, Bentley will introduce a new film this month about the personal inspirations behind
Riser
. A special edit of the film will air on CMT on Feb. 22 at 2 p.m. ET. Titled
Dierks Bentley: Riser
, the full-length film will air the same day on Palladia at 9 p.m. ET.
Dierks will host screenings over the course of the next few weeks in London, Los Angeles, Nashville, New York and Toronto.