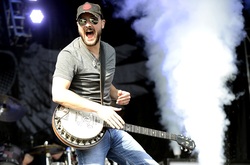 I remember being at an Eric Church show a little bit after
Chief
debuted as the number one Billboard album across all genres. He was elated and the high he was on could be felt throughout his entire set. One can only imagine how he is feeling now that he accomplished that feat again. His fourth studio album,
The Outsiders,
was the #1 Billboard album (both all genre and country) this week, selling 288,000 copies in the first week of release. This debut also surpassed his best sales week of
Chief
, which bowed at 145,000 units sold.
The Outsiders
was the biggest country debut since August of 2013 when Luke Bryan's
Crash My Party
debuted at #1. To read more visit
here.