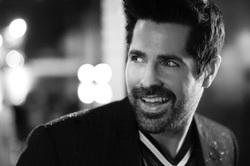 In celebration of Johnny Cash's birthday, JT Hodges has released a cover of "Get Rhythm" in honor of the country music legend.
Hodges chose to cover Cash's classic "Get Rhythm" because the song, "'is one of [his] favorites [as it's] one of the staples of that Memphis 50's rock and roll sound."
A true and loyal fan of the country icon, JT lives his life by his favorite Johnny Cash quote: 'Never follow trends and you'll never go out of style'
Hodges goes on to say that, "with music that crossed genres and generations, and inspired so many of us, I would say those words are as true as gets when it comes to Johnny Cash." We couldn't agree more! Happy birthday, Johnny Cash!
Watch the video below.
For more information visit his website
Follow JT on
Twitter
& Find him on
Facebook