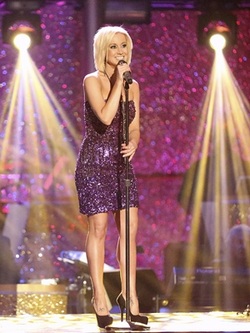 Rockin' Reful is a line of protein beverages that "starts with real milk and ends with real results."The company announced today that the newest addition, and first from the entertainment industry, to their team would be country music sensation, Kellie Pickler.
"I drink Rockin' Refuel's lean line of drinks because they have the perfect amount of protein that I need to refuel after a workout with fewer calories, plus they taste great," said Pickler. "Staying in shape while on the road touring isn't easy but it's essential when you're performing every night, so I make sure my tour bus is always stocked before we head out."
Pickler is the latest addition to Team Rockin' Refuel, joining football star Patrick Willis, professional basketball player Deandre Jordan, elite triathlete T.J. Tollakson and professional lacrosse player Brendan Mundorf. As a Team Rockin' Refuel member, she will be featured in a national campaign for Rockin' Refuel's lean product line, and will be partnering with fellow team members on upcoming social media activations.
For more information visit
www.RockinRefuel.com