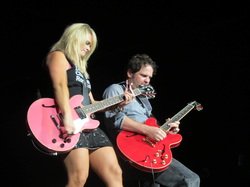 The Country Music Hall of Fame® and Museum will look at a year in the life of Grammy Award-winning superstar Miranda Lambert with the exhibition
Miranda Lambert: Backstage Access
, which opens on May 16th and runs through November 9, 2014.
The exhibition will include gowns, stage costumes, awards and more from the reigning and four-time CMA and ACM Female Vocalist of the Year. Lambert's own Tweets will provide the narrative thread of this journey through the artist's life in 2013.
"The Country Music Hall of Fame is a place to cherish what country music is all about, and I'm so honored to have an exhibit in this treasured hall," said Lambert.
"Miranda Lambert is one of contemporary music's most popular and acclaimed artists, and for good reason," said Museum Director Kyle Young. "She's a dynamic performer; an emotive and powerful vocalist whose voice is equally at home with lyrics tough or tender; and a songwriter with a deft touch for feeling and place. Her numerous hits, from empowering anthems like "Gunpowder and Lead" to introspective set pieces like "The House That Built Me," are rich contributions to country music's storytelling tradition. We are looking forward to taking our visitors behind the scenes with Miranda during her amazing successes in 2013."
For more information visit
here.