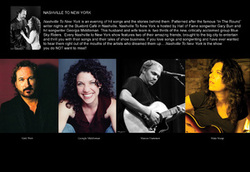 Nashville To New York is an evening of hit songs and the stories behind them. Modeled after writer nights at the Bluebird Café in Nashville, Nashville To New York is hosted by Hall of Fame songwriter Gary Burr and hit songwriter Georgia Middleman who are not only husband and wife, but members of the group Blue Sky Riders. Each Nashville to New York show features Gary and Georgia along with two of their friends, brought to NYC to entertain you with their songs and stories. If you love hearing the stories behind the songs, this is a show you do not want to miss!
The show is Tuesday, March 4, 2014
Doors: 6:30 pm / Show: 8:00 pm
For information click
here.