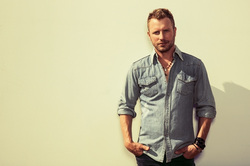 Dierks Bentley is set to release his highly anticipated album,
Riser
, on February 25th via Capitol Nashville.
Dierks tells Rolling Stone, "The record I had originally made, my dad was alive at the time and my wife and I had two kids. Life was stabilized. And then all of a sudden my dad passed away. Then my wife got pregnant and my son was coming, which was just a whole mix of emotions for me." These life events contributed to his "most real and personal album yet."
You can listen to the
album
and read more:
http://www.rollingstone.com/music/news/hear-dierks-bentleys-most-personal-album-yet-stream-riser-20140220#ixzz2ttKxq8Ly