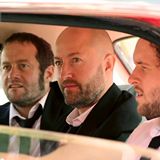 Adrian Duffy & The Mayo Brothers have initiated a PledgeMusic project, giving fans the opportunity to be a part of their forthcoming album.
Hot on the heels of their recent success with EP/single "Someone Like You", and being awarded a 2014 IASCA Irish Radio Artist nomination, Adrian Duffy & the Mayo Brothers are pleased to announce they are recording a new album and are inviting you to jump on board and be a part of it.
Teaming up with PledgeMusic, they are bringing you exclusives offers, with your pledges enabling them to get their music out there!
As a minimum you get a digital mp3 copy of the new album, weeks before it's official release. Additional offers include having your name in the album credits, a signed album and even having the band come to play at your house or office (for more information on that visit the link below).
Throughout the project, you'll have access to their "Pledgers Only" updates including demos, video clips from the studio, and generally keepin' you updated with where they're at.
Having personally supported the work of ActionAid for 10 years, the band will donate a portion of the pledge to help with their amazing work around the world everyday.
Chris, Melv and Adrian are proper excited to get this rolling, and can't wait for you to hear the new songs …. and to know that your pledges will be a part of some real, from the heart, music!
5% of any money raised after the goal is reached will go to
ActionAid
.
To be a part of their new album, whether you are in the UK, Ireland, the US or anywhere else visit~
http://www.pledgemusic.com/projects/adrianduffymayobros