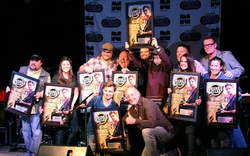 Hot country newcomer
Frankie Ballard
, who tops both the Mediabase Country Chart and Billboard Country Chart this week with his smash "Helluva Life," celebrated his first ever #1 single with fans last night (3/18) as he took the stage in front of a sold-out crowd for the Nash-FM 103.3 and 95.5 WSM concert series at 3rd & Lindsley in Nashville, TN. Ballard's set included the anthem "Helluva Life," which has sold nearly 400,000 digital copies, along with the fan favorite "It Don't Take Much" on his new album,
SUNSHINE & WHISKEY (Warner Bros. Records)
, available everywhere now.
The Michigan native is currently touring all over the country and will join Jake Owen's DAYS OF GOLD Tour for select dates through the summer. His dynamic set has caught the eye of many publications, including
Country Weekly
, who described the singer as
"a true guitar hero,"
and added that Ballard
"exhibits an elegant supple style of playing rarely seen in these days of hard-rock country."
For upcoming tour dates and more information, visit
www.frankieballard.com
.
Ballard's
SUNSHINE & WHISKEY
is now available on
iTunes
.
Pictured L-R: Chris Palmer (VP Promotion, WAR), Jessica Rouse (Promotion Coordinator),Jordan Pettit (Nat'l Dir. Promotion, WAR), Frankie Ballard, Ray Vaughn (Southwest Regional Promotion Manager, WAR), Chad Schultz (Nat'l Dir. Radio Promotion & Marketing), John Esposito(President & CEO, WMN), Kevin Herring (SVP Promotion), Tom Martens (Southeast Regional Promotion Manager, WAR), Abby Law, (Midwest/Northeast Regional Promotion Manager, WAR),Peter Strickland (EVP & GM, WMN), Raffaella Braun (West Coast Promotion Manager, WAR)