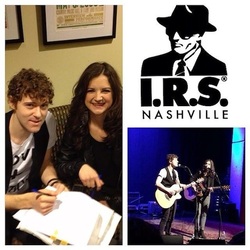 Striking Matches
, the duo comprised of Sarah Zimmerman and Justin Davis, joined the Capitol Records family upon signing a deal with I.R.S. Nashville yesterday (March 20th).
The duo released an EP in 2012 and have since gone on to write numerous songs that can be heard on the television show Nashville. They were named one of CMT's Listen Up Artists and perform regularly on the Grand Ole Opry. Additionally, they recently returned from England and Ireland where they played the C2C Festival.
"Dreams really do come true, y'all. Thank you to all of our fans, friends, family and team who have believed in us for so long…you mean the world!! Now we're REALLY ready to make a record!!!!" they said on their Facebook page.