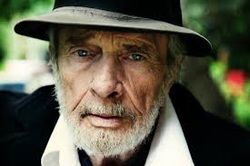 Merle Haggard will receive two tributes in April.
Working Man's Poet: A Tribute to Merle Haggard
is an album of his hits recorded by current country artists, such as Luke Bryan, Thompson Square and Randy Houser. The album will be available April 1st.
Secondly, during the ACM Awards on April 6th, which happens to be Haggard's 77th birthday, he will receive the ACM's Crystal Milestone Award honoring his 50th anniversary in country music.
Haggard topped the
Billboard
country singles chart thirty-eight times between 1967 and 1988. He won the ACM's first entertainer of the year award and was named top male vocalist a record-setting six times.
Working Man's Poet,
on Broken Bow Records
,
will be available digitally through iTunes. Physical copies of the album, sold only at Walmart, will include Garth Brooks' version of
Tonight the Bottle Let Me Down
. The album also includes two songs recorded by Haggard's son, Ben, who plays guitar in his father's band.
Track Listing:
Working Man's Poet: A Tribute to Merle Haggard
:
Misery and Gin, Randy Houser
Footlights, Joe Nichols
Going Where the Lonely Go, Jason Aldean
Today I Started Loving You Again, Kristy Lee Cook
Carolyn, Toby Keith
Pancho and Lefty, Luke Bryan and Dierks Bentley
Tonight the Bottle Let Me Down, Garth Brooks (Walmart edition only)
You Take Me for Granted, Thompson Square
Mama Tried, Ben Haggard
That's the Way Love Goes, Dustin Lynch
Make Up and Faded Blue Jeans, Jake Owen
I'm a Lonesome Fugitive, James Wesley
Workin' Man Blues, Parmalee
Are the Good Times Really Over, Jason Aldean
Let's Chase Each Other Around the Room, Thompson Square
I Think I'll Just Stay Here and Drink, Dustin Lynch
The Fightin' Side of Me, James Wesley
My Favorite Memory, Joe Nichols
Ramblin' Fever, Randy Houser
Sing Me Back Home, Ben Haggard