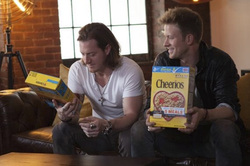 General Mills announced the launch of its third annual
Outnumber Hunger
campaign, which has provided more than 25 million meals to Americans in need as part of a partnership with Feeding America and Big Machine Label Group
.
Each year a talented roster of popular music artists join the initiative to raise awareness for the hunger issue, which affects 49 million Americas. The Outnumber Hunger campaign officially kicks off today with Country sensation Florida Georgia Line as the face of the 2014 campaign.
"Through our experiences with Outnumber Hunger, we have learned the far reach of hunger in America, affecting people from all different backgrounds," said Tyler Hubbard, the Georgia half of Florida Georgia Line. "This year, we're proud to take an even bigger role in the fight against hunger and rally the nation to help those in need."
Florida Georgia Line and other BMLG artists will be featured on boxes of more than 90 popular General Mills' products. By entering a code from these specially marked boxes online, Americans can help Feeding America secure five meals on behalf of a local food bank based upon the ZIP code entered.
"Our artists are proud to raise their voices with General Mills and Feeding America to highlight the troubling hunger issues that so many Americans face day-to-day," said Scott Borchetta, president and CEO of Big Machine Label Group. "This powerful group of partners is using its collective voice to rally Americans and help the 49 million people across our country who struggle with hunger."
For every code entered by Jan. 31, 2015 at outnumberhunger.com, General Mills will donate 55.5 cents to Feeding America, with a maximum total donation of $1.2 million. General Mills has already donated $600,000 and will donate up to an additional $600,000 based on online code entry.
For more information visit
here.