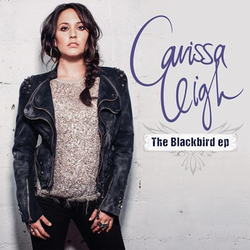 Rising star Carissa Leigh has announced the title of her debut EP and revealed the stunning cover art today, April 16th.
The Blackbird EP
, appropriately named from recording at the historic studios (Taylor Swift, Keith Urban), boasts four tracks produced by Grammy Award winner Tone Def (Green Day, Santana). The release date for the EP is set for April 28th.
The Blackbird EP
includes Carissa's single "Bad Boy" as well as other powerhouse tracks such as, "Man Enough", "Can't Come Back From That" and "Not The Same Girl". Carissa co-wrote all of the songs on the EP with outstanding writers such as Brian White (Trace Adkins, Rascal Flatts) and Clay Mills (Darius Rucker).
For more information on Carissa, visit her
official website