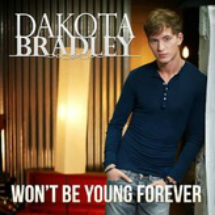 Country music newcomer
Dakota Bradley
has released a new single to Country radio, titled
"Won't Be Young Forever."
Co-written by Bradley, along with Lance Miller, Brad Warren and Brett Warren, this up-tempo single explains how life goes by all too fast, and while Bradley 'won't be young forever,' he will 'be forever young.' The single is now available on
iTunes
and other major digital retailers.
Bradley comments about the song, "Life on earth is short, so it is up to us to determine how we spend our time here. I have my entire life in front of me to reach for my dreams, while probably making some mistakes along the way. Life is all about the JOURNEY!"
The new single follows Bradley's debut single release,
"Somethin' Like Somethin,'"
which garnered Dakota his first Top 50 on
Billboard
. Bradley has been in the studio working on his forthcoming album, which is co-produced by Grammy award-winning producer
Byron Gallimore
and Country music superstar
Tim McGraw
.
"Dakota is the real deal," said McGraw. "He is a great young artist who defies the trends and lives for his music. His voice is unique and instantly recognizable, and his ability to convey pure emotion in his music draws the listener in from the very first word of every song."
To Download, "Won't Be Young Forever," visit
http://bit.ly/1i8mqdE
For more information visit
www.DakotaBradley.com
and follow him on
Twitter
and
Facebook.